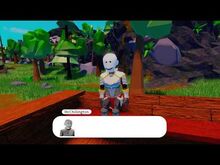 Attack on Albert is a Roblox story game (camping game) based on the Attack on Titan anime that was featured in the video ROBLOX ATTACK ON ALBERT....
Description
Its 2:30 PM, you're in English class. You're writing an essay. One more hour until the bell rings. You didn't follow the instructions to make an outline, because outlines are lame. Your essay has no flow, no sense of direction, and it's kinda garbage. Welcome to Attack on Albert -- except, we've got memes, and your essay doesn't.
"THE BEST STORY GAME ON ROBLOX" Flamingo
🚨 ATTENTION GAMERS 🚨 Lots of NOOBS (new players) die to the really easy obstacle course because they are playing on their Samsung Smart Fridge and get sad and take out their frustration on that dislike button. Real gamers will 👍 LIKE 👍 the game because they know whats up.
Don't forget to smash that like button, warmly embrace that subscribe button, make general acquaintance with that comment button, and otherwise drive engagement metrics on Albert's channel.
Find us on twitter: @idkhowtocode - can't actually code @AlwaysTrustBob1 - do not (dont) trust
Gameplay
You will spawn in the lobby and will join one of the few teams that will start the real game. You will wake up in a chariot where McChillington will question why you will outside the borders. He begins to worry as he felt that it was a bad idea to camp outside and plan to punish the player for being outside the border. Just then, several felipes (Aoa's version of Titans) started attacking the player. The players must run into the city gate in the limited time or else they will die. McChillington will receive the message that Albert had disappeared and ordered you to find him. You will go to the castle and encountered multiple obstacles, such as an obby and a tic tac toe challenge with Steve Harvey.
Attack on Albert Characters
Trivia
Apparently, Albert was asked to create some voice lines for the game. These would be used in future updates.