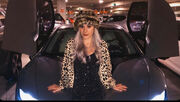 Kirsten (born July 8th, 1998) (known as FoxKirsten or FoxxKirsten online) is a Twitch streamer, YouTuber, and Albert's former girlfriend.
Personality
Kirsten acts pretty mature on her own channel as she states that she is a non-family friendly channel. Although acting mature on her main channel, she acts immature on the Flamingo channel and sometimes her main channel if it's a Roblox video. Similarly to Albert, she is pretty shy and awkward when first introduced to the camera as seen in Albert Flamingo GIRLFRIEND REVEAL. On social media she is bubbly and comedic. On TikTok, she claims she's not one to take risks.
Appearance
Kirsten is a 5' 4" (1.62m) Caucasian with a relatively athletic build. She has brown eyes and brown hair which she often dyes. She usually wears relatively formal or aesthetic clothing with well put together outfits.
History
Kirsten and Albert both met at McDonald's when she was 14 and he was 15. They broke up, got back together again on December 24th, 2018, then broke up again in an unknown date.
Her YouTube channel, FoxKirsten, has almost 608,000+ subscribers as of April 22nd, 2021.
Kirsten also has another channel known as "FoxKirsten Roblox" with 10.8K+ subscribers as of April 22nd, 2021.
About Kirsten
Kirsten gained popularity as a Twitch Streamer. She mostly played Fortnite and gained very few followers. Although this changed in February of 2019 when she started dating Albert and his following followed her onto the platform, she currently has a rounded estimate of 4,000 followers.
She made her account when on September 11, 2015, but made her first video when she was 20 on May 26, 2019. Her first videos were Fortnite gameplays but played Roblox on June 16, 2019.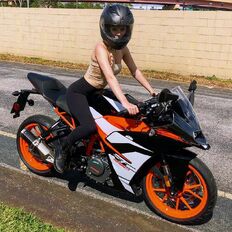 Hobbies
On her Instagram, Kirsten shows a great interest in biking, she owns a RC390 motorcycle she dubbed Foxxie. She takes a great interest in horseback riding and taking care of her horse as seen on twitter. She can play guitar and sing shown by a cover she did on TikTok. She also seems to be into fitness.
Trivia
Sources