Mrbadban is Albert's alt account that he used when his main account mrflimflam got terminated for Adult Content. Mrbadban was active from January 15, 2019 to January 18, 2019 (1/15/2019 - 1/18/2019)
Unban
Albert's main account mrflimfam got unbanned on January 18, 2019 (1/18/2019) and the account Mrbadban was then moved into inactivity.
Trivia
Mrbadban owns a group called albert din do nothin that has 10,319 members (as of 4/29/2020)
Mrbadban was used for 4 days.
Mrbadban has 45,444 followers (as of 4/29/2020)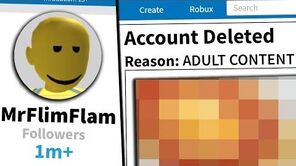 Community content is available under
CC-BY-SA
unless otherwise noted.