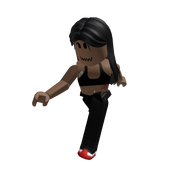 Famous Quote
"Ha Hah Hah Hah Hah Hah you do not have a car so you have to steal everybody's car"
History
RiYanaP36 is a Roblox User who created her account on December 23, 2019. About a month later she was featured in the video "I stole ROBLOX NOOB'S using ADMIN and ruined them..." Which involved Albert copying people's avatars and pretending to be them.
Appearance
In the video she is seen wearing ripped jeans and an orange shirt with the "bacon women" hair though her actual account is black hair, a black bra and pants with red shoes
Trivia
As Albert has stated that she seems to make more sense than Loveyouroni, she is still not capable of proper grammar.
She has also not joined the Flamingo Fan Club, nor does she seem to not know her appearance on the channel
Her account is currently active.
(Please improve this page as I am not an expert Wiki page creator)