"ZOINKS!"
Ru-Oh! Looks like this article is complete with a lack of information and therefore is a stub. Please help make depressed scooby doo happy again by expanding it.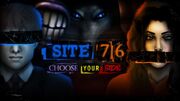 Site 76 is an SCP roleplay game made by Yellow Gearworks, who created Witching Hour. It currently have 8.8 Million people who played it
Description
[BETA] 🔔 Follow us to be notified when the game is updated!
👁️ Welcome to Site-76, an SCP inspired secret prison compound responsible for containing both inmates and SCPs! Understaffed and wild, breakouts are a regular occurrence.
👮 Play as a Foundation member labouring to keep the facility functional and arrest delinquents, a prisoner seeking to escape, or contain SCPs in this chaotic sandbox brawl!
💣Start riots, disguise as other players, release (or play as!) SCPS to cause mayhem, take up contracts to assassinate players, begin heists to steal strange objects for a mysterious organisation and destroy foundation machinery to impede their jobs!
☢️But remember, if the situation gets out of control, then the facility itself may be sacrificed in an explosion of nuclear proportions!
Type /name for custom names. 4 Foundation Staff are needed for stats to save in VIP servers.
Creative Commons Attributions: https://devforum.roblox.com/t/455593